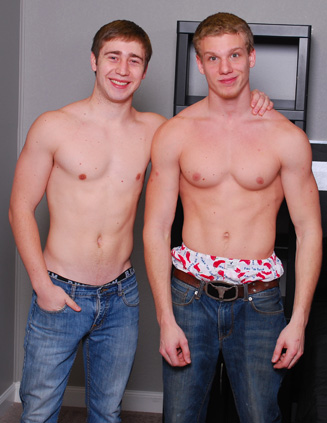 Who doesn't like a revenge fuck? In today's update Brandon Beal gets a chance to give Johnny Forza a meat injection.

"It's my turn now," Brandon said with an evil grin.

Johnny looks slightly nervous, but a fat wallet makes a straight guy do close to anything! :-) Because these two are BSB pros, there's not much chitchat. Clothes are removed, and the two stand naked for a few seconds. Johnny has more definition, but Brandon is no slouch in the muscle department.

They get on the bed and Brandon sucks first (ignore the storm sounds in the background…..LOL). After a few slurps, Johnny is murmuring encouragement.

"Oh, yeah," Johnny says. "Oh, god."

Brandon's mouth overflows with New Jersey beef. He's doing something right because Johnny's toes stretch out. Brandon deep throats that Garden State hose, causing Johnny to moan to the gods. Sounds of sucking and slurping mix in with the wind blowing outside.

Johnny has a go at licking Brandon's beef. Brandon wants his NJ stud to swallow as much as possible, so he pushes his head down. The sucking, alas, doesn't last for long.

"Ready for this," Brandon asks.

Johnny just nods his head. He stands up as Brandon lubes up. Johnny straddles his scene partner and moans the moment that raw dick touches his hole. He grabs his cheeks and gently rides Brandon's dick. Brandon gives him a kiss for all the effort.

"Oh, fuck," Johnny groans as Brandon takes more control of the screwing.

There's a closeup of Johnny's pale cheeks as they are pierced by Brandon. You won't find a better sight! LOL! Johnny gets on his side and Brandon returns to fucking. The strokes are slow and powerful. They are also balls deep. Poor Johnny. He grits his teeth and moans, but his dick is hard. The pleasure overcomes the pain.

Pain or no, Brandon grooves to that ass.

"You like that dick," he wonders.

Johnny's answer is muffled by the pillow he's biting. Does anyone really think Brandon cares about his partner's response? :-)

Johnny gets on his back and Brandon rides on home. The stroking gets faster and Johnny begins to jerk his own dick. Skin smacking skin drowns out all other noises. Brandon even begins to grunt. Those jabs to his special spot prove too much for Johnny. His load explodes, landing on his chest and stomach. Brandon takes a few stabs in that man hole but pulls out. His cum shoots out and covers Johnny's stomach.

Brandon has a surprise for his partner. He sticks his still solid dick in Johnny's still wet hole. The shock causes the NJ stud's body to shake.

Johnny still isn't "digging" all this butt sex. That's OK. We are. LOL!