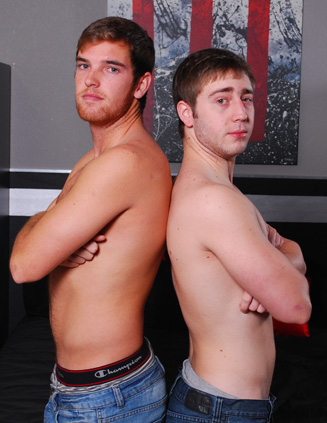 As the northeast gets socked with a storm called "Nemo" (really weather people?), Brandon Beal
and Tyler Blaze share a scene bed. Tyler will lose his butt virginity today, but he's not happy at all.
Not one iota.

"Not too excited about this," Tyler says.

Tyler owes people money so he's willing to get filled. As for Brandon, he needs to pay for the
proverbial car. Dear Detroit: we here at BSB want to thank you for making alluring toys for cute
straight boys. :-)

The boys get naked; Brandon looks more cut these days. Tyler has decided not to get waxed or
shave, which is a plus. The pro sucks first.

"Oh, yeah. Suck that cock," Tyler whispers. He might not want to get fucked, but does appreciate a
juicy mouth.

Brandon slurps away, saliva and pre-cum dripping down Tyler's shaft. There's some deep throating
and lots of spit. All of this makes Brandon's toes curl in excitement.

Tyler gives pole sucking a try. He can't deep throat as well as Brandon, but his mouth is just as
warm and wet. Brandon puts his hands on the back of Tyler's neck and pushes down, forcing his
partner to take as much meat as possible.

Time for Tyler to get on his back. Brandon slathers up his meat. When he enters, without a
condom, Tyler can only curse. Hard to blame him. There's no mercy in Brandon's fucking. Balls
deep and insistent.

"Dammit," Tyler whines.

He grits his teeth as Brandon's pace quickens.

"Take that dick," Brandon demands.

He commands his bottom boy to get on his stomach. The dick reenters Tyler's hole, and the
mantra of curses and groans continues.

"Take it," Brandon orders.

All Tyler can do is spit out filth and whimper. He's going to walk funny for a few days. As for
Brandon, he's treating Tyler like his own plaything. Making each down stroke count. When he gets
close, Brandon picks up the pace. This makes Tyler's cries to get louder. Brandon doesn't nut inside
Tyler. He pulls out and jerks a large load on Tyler's hole. He pushes his tool back in, making sure
his seed coats Tyler's insides.

The brutish top turns tender, sucking and jerking Tyler until he busts. Even keeps his mouth open,
allowing some of Tyler's man juice to land on his tongue and bottom lip. A sliver of Tyler's nectar
dangles from Brandon's mouth.

Tyler is asked how it feels to be fucked.

"It was tough at first, but toward the end it wasn't so bad," Tyler observes. "It hit some sort of
spot."

Did the scene hit your spot?