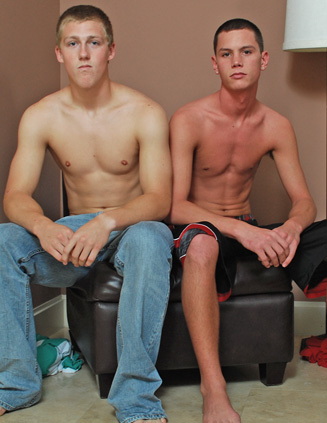 If you like introductory conversation, youll hate todays update. :-)

When the vid starts, Adam Baer and Carter Blane are kissing. The smooching is tentative, first time for Adam, but some tongue is shared. Wordlessly the two models strip, and Carters staff is ready to play. While we are on the topic of staffs, has anyone see the movie The Hobbit? Doesnt Bilbo Baggins give off a pig bottom vibe? :-)

As the expert in these matters, Carter sucks dick first. His tongue loving causes Adam to softly coo. His tool gets too big for Carters mouth, and the expert chokes a few times. However, Carter has learned that gagging cannot be a deterrent when pole love is involved.

Soon its Adam turn to return the favor. His job is much more difficult because he can barely get Carters sausage in his mouth. His lips are stretched on the shaft. There are a few attempts at deep throating, but he only gets about one-third down.

Oh, yeah, Carter whimpers.

He puts his hand on Adams head like he wants to guide the blonde stud. There is a second round of kissing, more tongue this time, before the models do a 69. Adam is on top, which is great for us. We get a perfect shot of that sweet, sweet man hole. The boys pleasure each other with their hot mouths.

We get a passionate third round of lip locking, this time with Carter putting his hand on his scene partners head. Carter reaches for the condom. Doesnt Adam look sexy as hell, on his knees, as Carter gets ready? The soon to be bottom boy assumes the position and permits Carter to separate those blonde cheeks.

Oh, shit, Adam says when Carter gets his tool in.

Our top is deep dicking Adam, balls deep, and the newly fucked bottom grits his teeth. There is pain, but its delicious. And Adam is craving it. For Carter, its all pleasure. He is leaving his mark on virgin ass.

Adam puts his head on the bed, and pulls his cheeks apart so Carter has more access. Each stroke is long, but Carter changes the pace; from quick and hard to slow and gentle.

Adam gets on his back, those milky thighs in the air. Look how hard his dick is. He's ready to burst from all that prostate pounding.

Oh fuck, Adam groans when Carter reenters that magina.

Adam has always been a cutie, but he looks sexier getting busted. His eyes closed, legs pulled apart, those blonde cheeks enduring an anal invasion. As for Carter, hes in fuckers heaven. So much so that he stops and leans in to give his bottom a kiss.

Now here is where the vid takes a twist. Carter pulls off his condom, and it looks like both lads will jerk out a nut. What DOES happen is Carter gets on his back, and Adam puts his tool inside Carters boy cunt. With a condom. :-)

Carter moans and groans more than Adam. Even puts his hands on the blondes thighs to keep him from going all the way in. From the way his face scrunches up, it looks like the pain is too much for Carter to bear. His stiff johnson tells a different tale.

Adam picks up the pace, giving as good as he received. He keeps focused on his junk filling up that moist mussy. He grabs his bottoms meat and strokes it. All of this stimulation proves too much for Carter and he nuts. His juice fills up his belly button.

Adam pulls out and jerks his own meat. His cum comes out in spurts, landing on Carters smooth stomach.

The scene ends where it began. The two spent lads kissing. Should they have a second round?