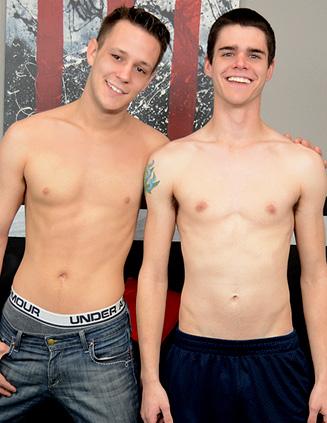 Jason Matthews and Skyler Daniels bypass any hand holding by Clay. LOL! They take over the
introductions.

"So what's your deal," Jason asks.

"I'm broke," Skyler responds.

"Story of my life," Jason says.

And that's why we love ya, Jason. LOL! Skyler notes he a son of Texas, a state Jason loves (Austin
is
great!).

"Are things really bigger in Texas," Jason wonders.

Skyler pauses for a moment and says they are. Would we expect any other answer from a proud
Texan?

"So are you ready to have some crazy sex," Jason asks.

Skyler is more than ready. The two strip and Jason immediately sucks Skyler's tool. That warm
mouth does the job, getting Skyler rock hard. As a pro, Jason knows to alternate his sucking style,
from deep throating to licking up and down the shaft.

It's Skyler's turn to lap the pole. He licks Jason's sausage so well that he pulls Skyler up and plants
a tender kiss on his lips. Skyler returns the passion and the two swap spit.

Skyler returns to his blow job duties.

"Oh, yeah," Jason whispers as he caresses Skyler's shoulders.

Skyler's soft tongue kisses the dick's tip. He opens wide and swallows all of Jason's meat. Skyler
gets on all fours. Jason puts a condom on his johnson. After playing with Skyler's hole, Jason
enters. The strokes start deep and Skyler moans from the invasion. Jason kisses Skyler's shoulder
and gives his bottom a command.

"Oh, yeah. Come back on my dick."

Skyler backs his sweet ass on that meat, his hole stuffed.

"Oh, fuck me," Skyler moans.

"You like that," Jason asks

"Oh, yeah," Skyler answers.

Jason's handprint can be seen on Skyler's pale ass. The two switch, with Skyler taking the role of a
bucking cowboy.

"Yeah, ride my dick," Jason commands.

Skyler does, going up and down. Jason pulls him down and offers another kiss.

Jason takes over and pounds away. He puts Skyler on his back and makes the Texas lad's toes curl
inward.

"I'm about to cum," Skyler whimpers.

He busts a Texas load that lands on his chest and stomach. Jason pulls out, licks some of the juice
off and plants a sloppy kiss on Skyler's lips.

Jason beats out a load that is no slouch either. It smacks Skyler right in the face.

"Hot stuff," Jason observes.

Who will argue?