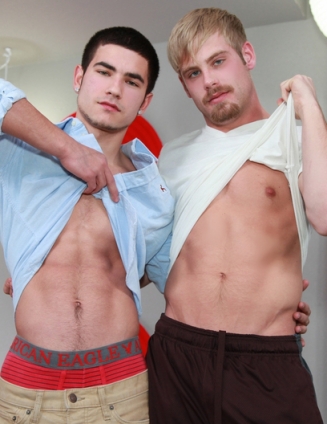 Vadim Black's schlong has been sucked. The time has cum for him to return the favor to a guy, and to put his tasty treat in a dude's tight hole. Tate Thompson will get that honor. "You gotta do it, so I'm going to do it," the nervous, but ever so cute, newbie says to the cameraman. Tate, always the pragmatist, offers Vadim sound advice. "Make the money, man. There is money to be made," Tate says. Another T-shirt quote!
Once the models are naked, they instantly turn around to compare backsides "Why am I bottoming for you," Tate wonders as he grabs some of Vadim's booty flesh. That, Tate is a great question! Anyone have an answer? LOL! The studs start by making out. This causes their rods to stiffen. Vadim kisses his way to Tate's tool and carefully puts it in his mouth. The newbie takes his time sucking the sausage, even spends a few seconds on the pink head. "Is that good," Vadim asks. "Damn," Tate replies. Vadim looks up when he sucks, which makes half of North America cream! Those eyes are irresistible.
Tate brings him up, plants a kiss on those newbie lips, and pushes Vadim to the bed. Tate, a boy with a silvery tongue boy, laps at Vadim's dick. He swallows it all, all the way to those cum filled nuts. "That's so good," Vadim whispers. Time for someone to be busted. Tate gets on his side, with Vadim right behind him. The blonde bottom gives Vadim a hand to steer his uncut pole into the hairy hole. Once there, Vadim starts to long stroke. To the balls. Vadim is a romantic little fucker. He leans over and nibbles on Tate's neck, ear, and shoulder. "Fuck me," Tate moans.
He gets on all fours, and Vadim puts that baby maker right where it belongs. "Fuck me harder," Tate whimpers. Vadim strokes Tate's back as he gives it to him. "Fuck me harder," Tate commands. Someone is a bossy, and needy, bottom! Vadim does as told, giving his man what he needs. Look at how Tate arches his back. "You like hat asshole, don't you," Tate asks. "I love it," Vadim answers. Tate gets on his back and the pounding gets more vigorous. Both are lost in the fuck and must pop. "Fuck me," Tate whimpers. His spot is getting touched right because he repeats this phrase: "right there." Vadim fucks until Tate shoots a load over his stomach and chest. Vadim pounds for a few seconds, but he can't hold on. "Oh, my God," he moans. I'm going to fucking cum too." He jerks jizz that lands on Tate's pubes and stomach. "Fucking great," Vadim whispers. The top is still hard, and he's ready for round two. Are we ready for Vadim's round two? LOL!